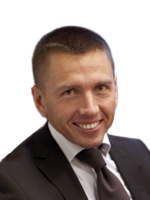 Kirill Skrebnev, Director of Quality and Administration at PS Russland

Responsibilities: organization and management in the field of administrative tasks aiming to ensure the company's sustainable development and improve administrative matters. Quality improvement of the services provided to customers, as well as quality raising in the field of corporative processes. Comprehensive internal audit and revisions of the processes belonging to his personal area of responsibility.

Languages: English, Russian, Spanish.
Previous job: The U.S. Embassy in Moscow.