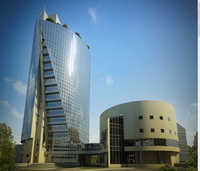 German quality in medicine!
07.06.2011

June 3rd, 2011 BPS has presented its new project of German Medical Center in the frames of "Business, Society and Power: social partnership" panel. The event dedicated to business social liability issues in Russia was held under the guidance of European Union in Russia.
The participants of the event were the representatives of Russian and International business, official establishment, State Duma, public and non-commercial organizations. Russian President Assistant Arkady Dvorkovich, Minister of economy development Elvira Nabiulina, CEO of Sberbank Russia German Gref were invited as the speakers.

BPS Managing director Markus Mayer presented the development of the German Clinic, the unique project in multifunctional Country Park 3 center.

«Project concept exemplifies the advanced ideas in medicine, technology, management and service, - Markus Mayer noted, - the Clinic will become the first Russian innovative center providing polyclinic, diagnostic and surgery services in orthopedic sphere based on German standards. Besides, clients can have live consultations with the best doctors from Germany».
The doubtless plus of the project as per Markus Mayer is flexible and transparent price policy. Due to that approach, clinic services are foreseen to be affordable to wide cluster of clients from professional sportsmen to district residents
Country Park Clinic will have diagnostic center, orthopedic surgery center with 3 modern surgery rooms, rehabilitation center and polyclinic.  

07.06.2011