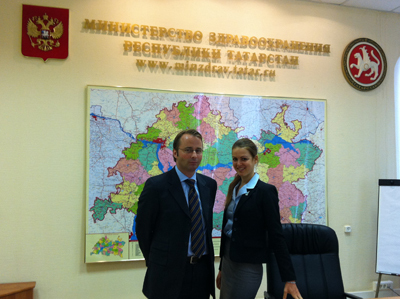 Kazan - Tatarstan
25.07.2011 Meeting with the health minister. Presentation of the Country Park Clinic. On 20th of July 2011, in Kazan, a meeting was held with the health minister of Tatarstan and the representatives from BPS.
The German-Russian clinic project was presented to the health minister, Dr. Aurat Farrachow by managing director of BPS Medical Dr. Philipp Walther and project manager Alena Kazakova. In the meeting fields of cooperation has been discussed especially in the context of sporting events like the Universiade in 2013 and the World Swimming Championships in 2015 in Kazan.
The BPS representatives also met the general director of the Advanced Medical Technology Education Center. The Center is a leader in Eastern Europe in the practical postgraduate trainings for doctors. Here too, they come to an agreement on further consultation regarding a collaboration.
25.07.2011