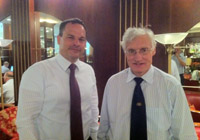 A Royal support
06.08.2011 Prince Luitpold of Bavaria supports Oktoberfest at Country Park 2011. Building on the success of last year's Octoberfest in Country Park, the BPS team is currently busy with putting together an exciting "Oktoberfest"-Package for CP tenant companies.
Between September 13 and October 2
nd
companies have the unique opportunity to invite their clients or employees into an authentically decorated tent, with live music, multilingual moderation, animation and of course tasty Bavarian dishes and beer.
In this respect, it is a great reconfirmation for everyone, that Prince Luitpold of Bavaria as the great-greatson of Ludwig III (the last Bavarian king) and as the Bavarian head of the centuries-old Wittelsbach dynasty is equally excited about Country Park and the idea to promote authentic Bavarian products and traditions in this surrounding. Actually it was King Ludwig I, the prince's direct ancestor, who founded the Oktoberfest 201 years ago! As the CEO of the 750 year old Kaltenberg brewery, Prince Luitpold offered to contribute actively to a successful event. Thank you very much your Royal Highness and Prosit!
06.08.2011