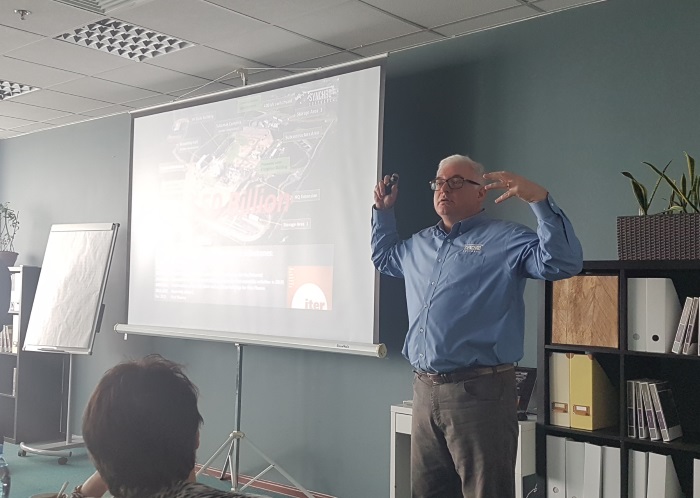 Synchro Software: the Time Machine by Tom Dengenis
On April 11 the iBIM company, being part of the BPS Group of companies, held a business meeting with Tom Dengenis, the creator of the popular information system Synchro Pro. This unique event took place in the office complex "Country Park", which had been created with the use of BIM technologies. The participants were welcomed with aromatic coffee.
Synchro Software offers some new reality in the field of construction management. This software synchronizes the BIM model of the facility under construction with the schedule network diagram of the works. So developers are offered a tool, which allows the construction and installation works to be scheduled long before going to the site and further monitoring of their execution.
The participants of the event were granted the possibility to examine real cases, comprehend special features and benefits of the 4D BIM system. While introducing Tom Dengenis, Alexey Zotov, Director of iBIM, reminded the audience, that nowadays extraordinarily complicated projects are being realized with the help of Synchro Software all over the world in the fields of industrial, civil and infrastructure construction.
In the course of the meeting multi-billion construction projects were presented, such as the thermonuclear reactor in France, the Disneyland in Shanghai, railway lines near London and New York, all of them realized with the use of the Synchro systems.
"The modern construction processes become more and more complicated", Tom Dengenis underlined. "So we need technologies, which allow gathering all the ideas inside of a common spatial model: we can now get to see the building, which will only be built in the future. The 4D technology turns out to be the Time machine, which makes it possible for us to travel in space from one project phase to another and back again. If we are disappointed in the final result, we will be able to go back to the beginning and eliminate eventual errors. In my opinion, the time will come, when construction companies with information technologies at their service will have greater value, than Apple Inc. Ten of the world leading construction corporations use products of Synchro Ltd."
One of the most important benefits of Synchro Software is the accurate scheduling of the construction works. "Let's imagine you are ahead of the time schedule, that you have done everything faster than it had been planned. Is it good or bad? My answer would be: it is bad. This means that some errors have crept into your planning works. Going faster than scheduled can spoil the slenderness of the whole process. Our software product allows planner to foresee and schedule such "acceleration" and to take into account eventual earlier completion. Just create a plan and trust it", said Tom Dengenis in the conclusion.
05.03.2017