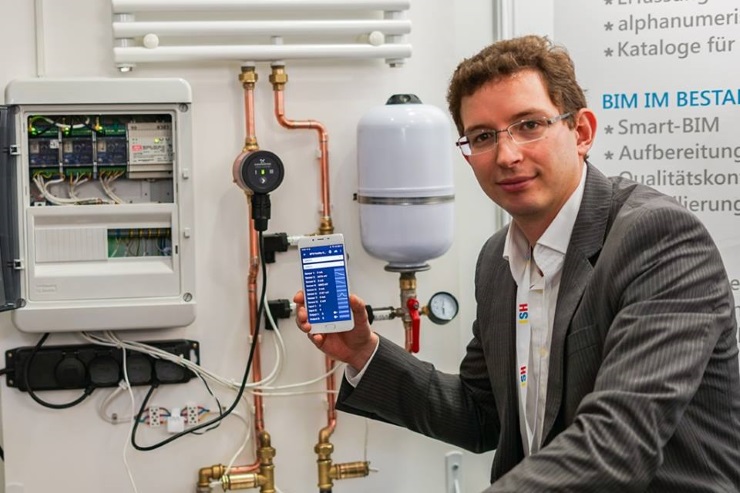 BIM World Munich: Connected BIM
Within the framework of the International exhibition in Munich BPS International demonstrated the working of the software solution Connected BIM, that allows predicting possible negative scenarios in the course of the work of MEP systems in a building. This technology is being used in the operation of the office complex "Country Park".
At the booth of the worldwide forum BIM World Munich a simplified model of a boiler facility was installed presenting a simulation of one of the circuits. The sensors mounted on the engineering equipment gathered actual data about the behavior of the systems and forwarded this information to the software unit Connected BIM. The results of this live monitoring could be analyzed with the help of the corresponding BIM model.
The idea is that the new possibilities in the area of data processing and options of machine learning should be of great use for the property owner. For instance, the sensors that are installed in the office building "Country park" read such parameters as temperature, humidity, vibration and other. Then, the high-performance algorithms with a machine learning option analyze these data while deriving patterns of normal system behavior – a kind of "healthy" building image. Even the tiniest deviations from the usual working mode are detected as an alarm signal. The integration with the BIM model being a virtual copy of the property allows analyzing this information. The experts of the operating company can determine the source of danger with an accuracy of a few centimeters.
Thanks to the possibilities of the intellectual analysis (IIoT) these technological solutions allow both – detecting negative events in real time and modeling a sustainable future of the property.
Nowadays the systems of live monitoring are used only on complicated engineering objects, like Atomic power stations. But the solutions analogous to Connected BIM can be implemented in office, retail and residential buildings with a great success.
BIM World Munich is a worldwide forum dedicated to information technologies in the area of real estate.
01.03.2018